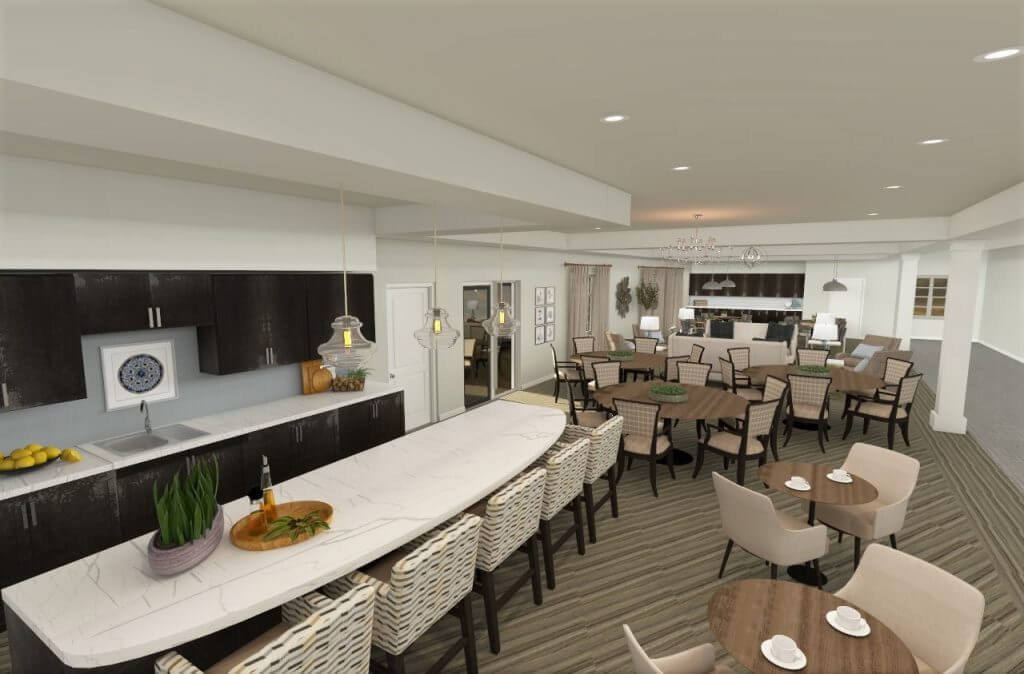 Calumet Trace is expected to open in 2Q23 to provide a much-needed option for private pay, middle-market senior living in Owensboro, Ky., about 75 miles southwest of Louisville. The three-story, 107,000-square-foot facility offers 114 private-pay units for independent living, personal care, and memory care. Residents have access to a wide array of high-end amenities, including a fitness center and salon, all at an affordable price.
DMK identified the need for a new senior living community in Owensboro, Ky., the fourth largest city in Kentucky by population. DMK led the charge through all phases of the project, from site selection to building construction. The project utilized one of DMK's premier middle-market prototype buildings that offer a continuum of care from independent living to memory care. As with all of our projects, the building design allows for operational efficiency without compromising any parts of the resident experience. Calumet Trace offers an affordable, private-pay lifestyle option that includes high-end amenities such as:
Multiple dining options
Café/Bar
Movie theatre
Spa, salon, and barbershop
Fitness and wellness center
Resource center with computers
Interior courtyard
Sunrooms and private balconies
Construction is nearing completion and excitement around the new community continues to grow. Charter Senior Living is once again exhibiting operational excellence and has built a strong bank of pre-opening deposits. All signs indicate that this project will be very successful.
Independent Living (50 units), Personal Care (44 units), Memory Care (20 units)
Full-Suite Project Development
Capital Markets
Design-Build Construction
Asset Management
Regional leaders in senior housing solutions