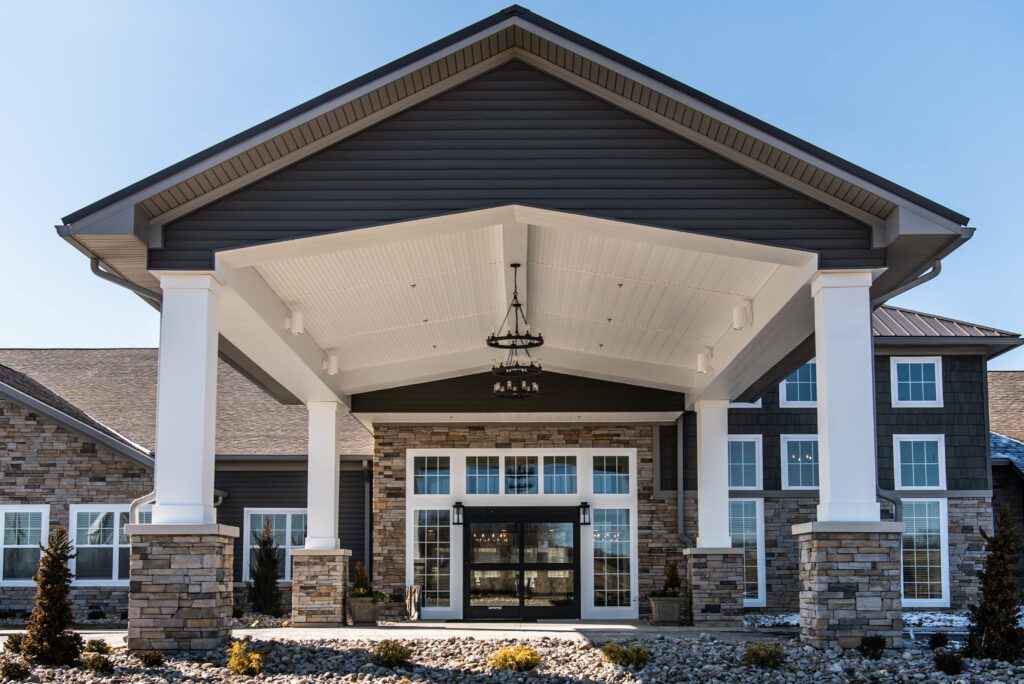 Charter Senior Living of Hopkinsville opened in March of 2023 to provide a much-needed option for private pay, middle-market senior living in the community of Hopkinsville, Ky., about 60 miles northwest of Nashville. The single-story, 65,000-square-foot facility offers 79 private-pay units for personal care and memory care. Residents have access to a wide array of high-end amenities, including a fitness center and salon, all at an affordable price.
Hopkinsville is a maturing town of about 31,000 on the western side of Kentucky that showed a significant unmet demand for a high-quality personal care and memory care community. DMK's extensive company experience allowed us to lead all facets of the project lifecycle, from the site selection to building construction.
The market in Hopkinsville was a perfect fit for DMK's one-story prototype community, which has been thoughtfully designed and iterated to allow for operational efficiency without compromising an exceptional resident lifestyle. Charter Senior Living of Hopkinsville offers an affordable, private-pay lifestyle option that includes high-end amenities such as:
Bright, spacious senior apartments
Restaurant-style dining
Café/Bar
Spa, salon, and barbershop
Fitness and wellness center
Resource Center
Beautiful outdoor courtyards
DMK is proud of the agility and flexibility exhibited by the construction team throughout the construction of this project. The project was constructed during the COVID/Post COVID period which resulted in numerous material supply chain and labor issues. Despite such hurdles, the end product delivered by DMK was exceptional and market demand remained unwavering. Great operational execution by Charter resulted in deposits for over 60% of the facility's available occupancy prior to opening. Overall, this project is on track to be very successful.
Personal Care (56 units), Memory Care (23 units)
Full-Suite Project Development
Capital Markets
Design-Build Construction
Asset Management
Regional leaders in senior housing solutions